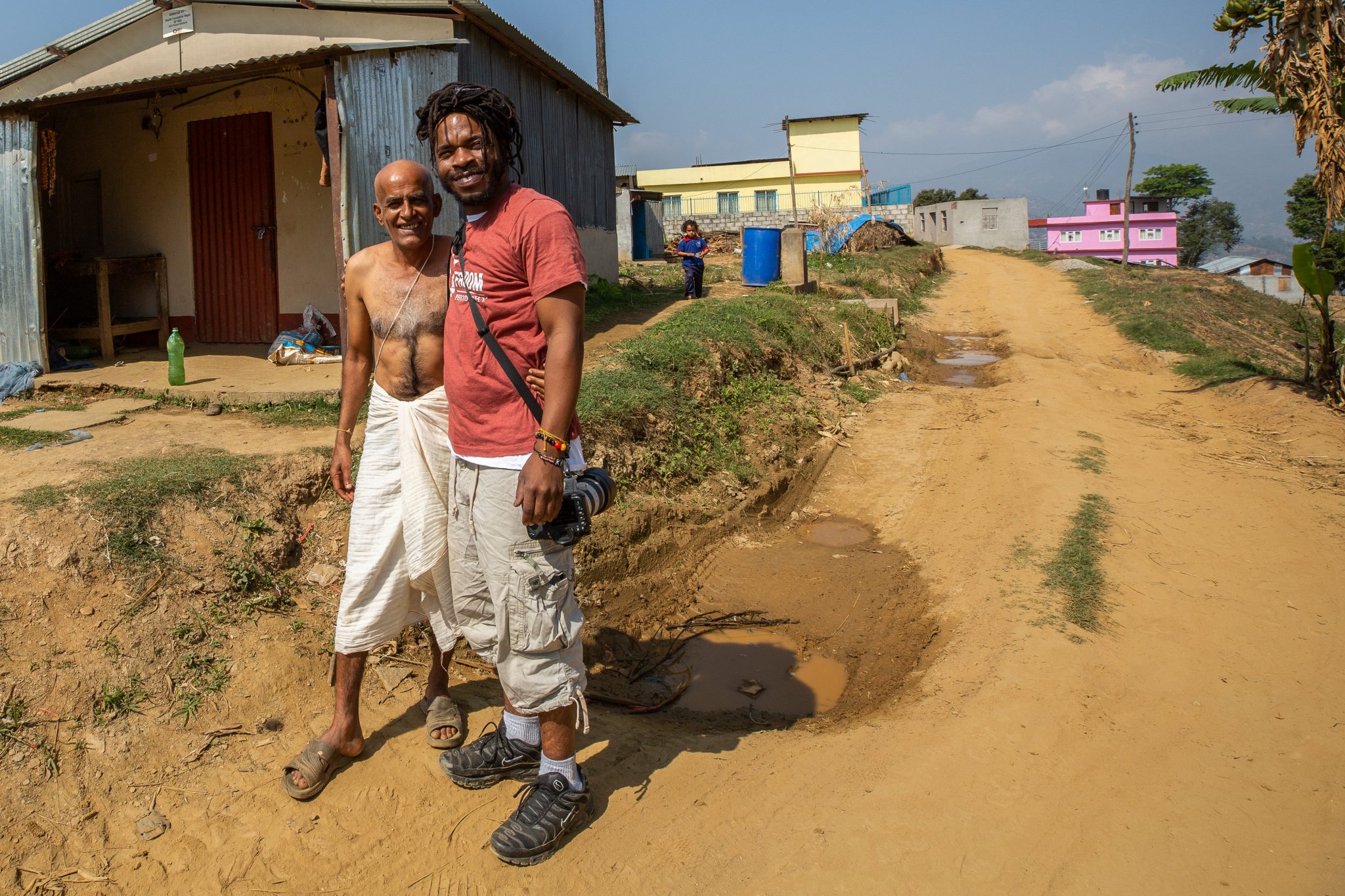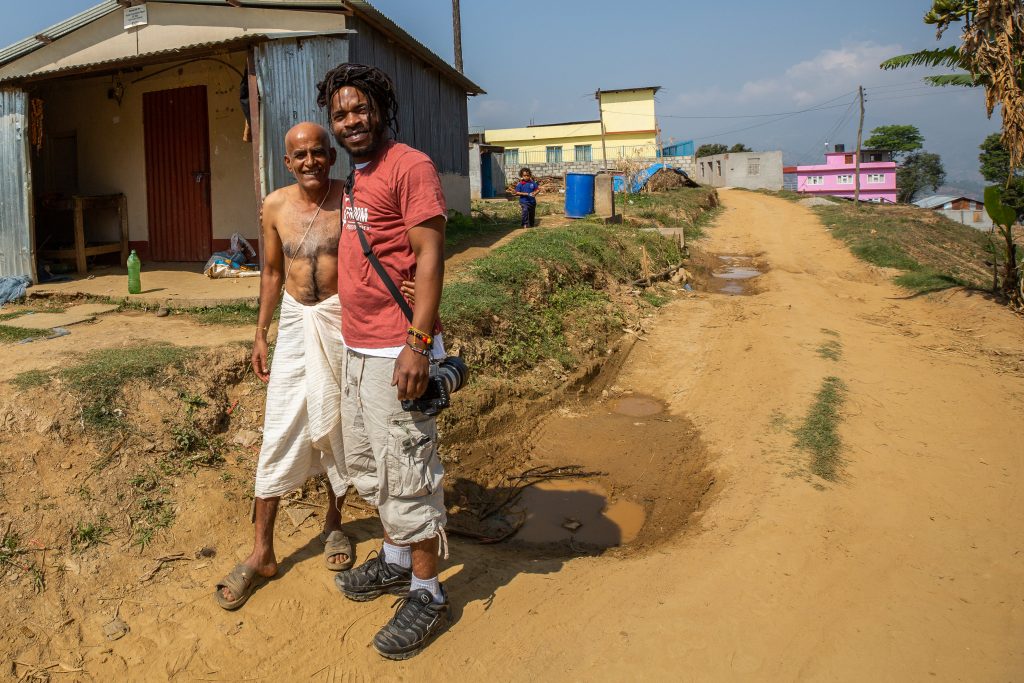 Planning and Gathering Supplies
I was living in Bangkok when I heard about the devastating Gorkha earthquakes in Nepal. My contract had just ended, and I was looking for my next move. The 7.8 and 7.9 magnitude earthquakes compelled me to help in some way. It would also be an excellent way to volunteer while traveling in Nepal. The Nepalese were running short and being price-gouged on many essential items. I contacted a few non-profits through emails and social media since it was my first time doing earthquake relief volunteering. I asked what supplies and materials would be best to bring since they were already on the ground helping. They needed tents, bandages, baby food, alcohol, peroxide, and diarrhea medicine. At the local Tesco-Lotus, I purchased all of their tents, and the pharmacies had other supplies I bought.
Help From Jet Airways
I had to figure out how to get all these items to Nepal since it would be difficult to get them on the plane. My flight was on Jet Airways, so I contacted them about what I was doing. I received a response from the Thailand Country Manager, Mr. Anindam Choudhury, who was happy to help with my efforts. He allowed me an extra 30 kgs a piece in addition to my normal allowance of 30kgs all at no additional charge! This was very generous and more than I was expecting. This was enough to get all the bags and items to Nepal. I sent the below email to Jet Airways.


Below is the response from Jet Airways. It was for myself and another volunteer so that's why it says "each passenger" and "2 guests".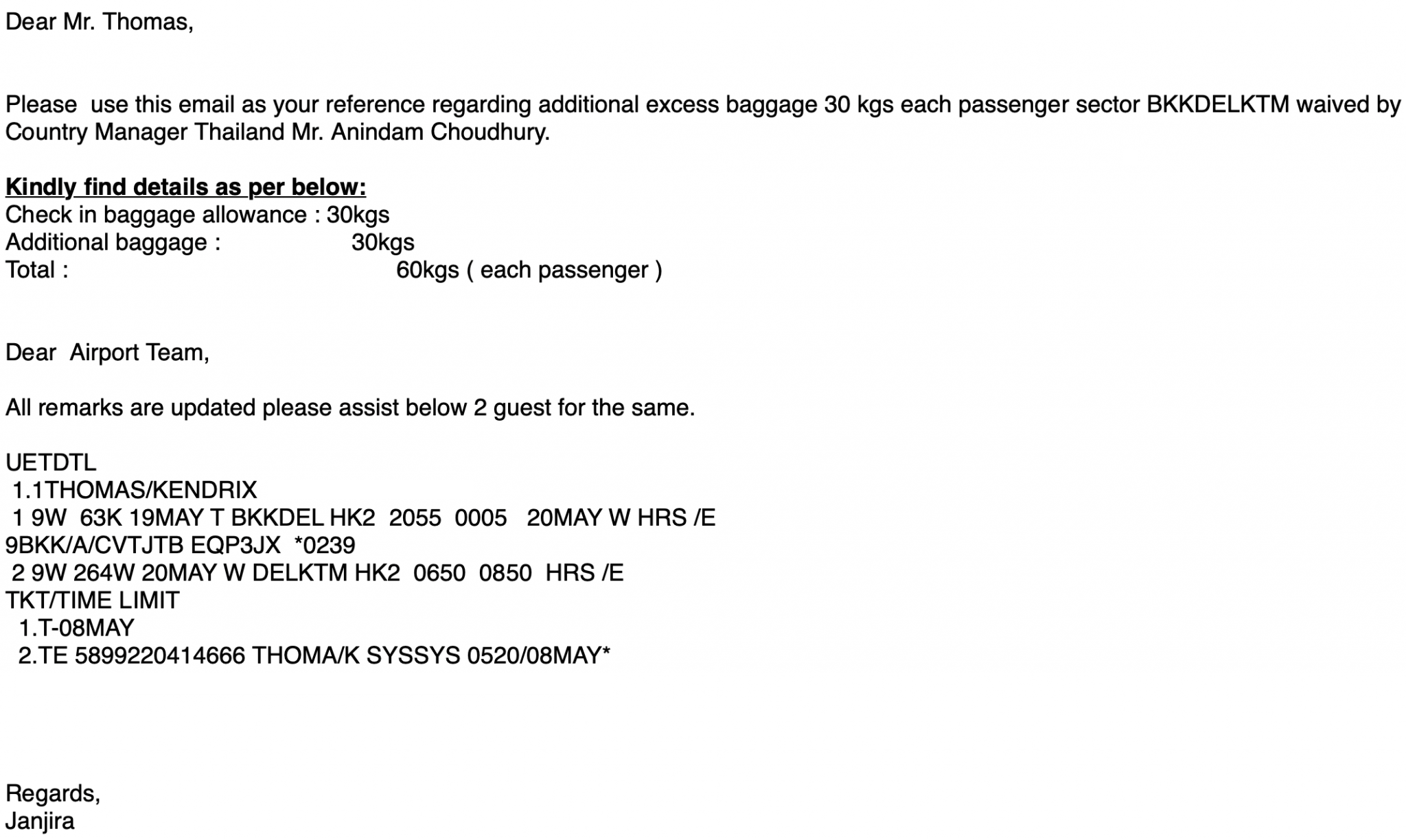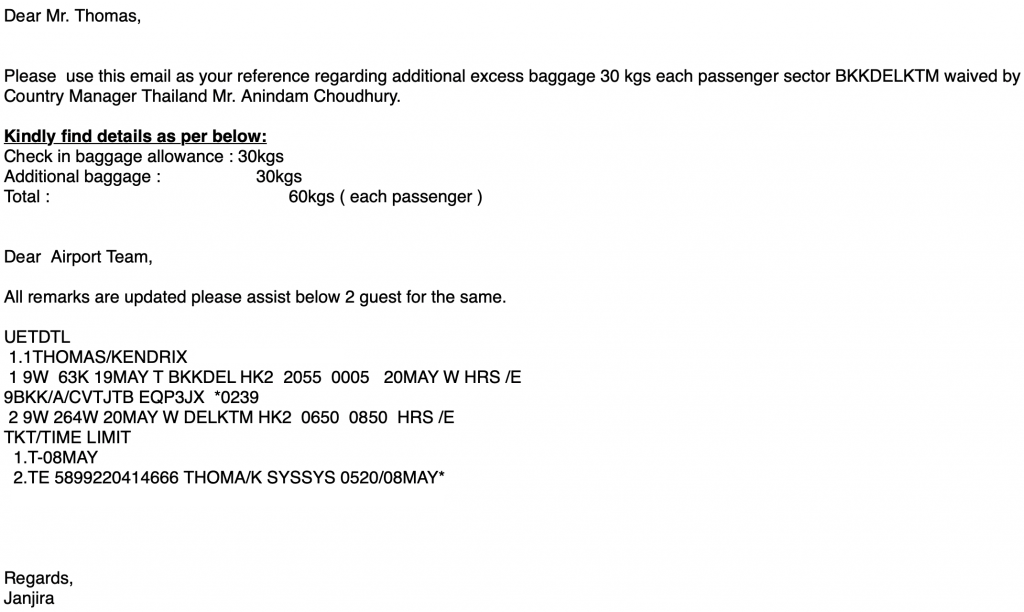 Arriving in Nepal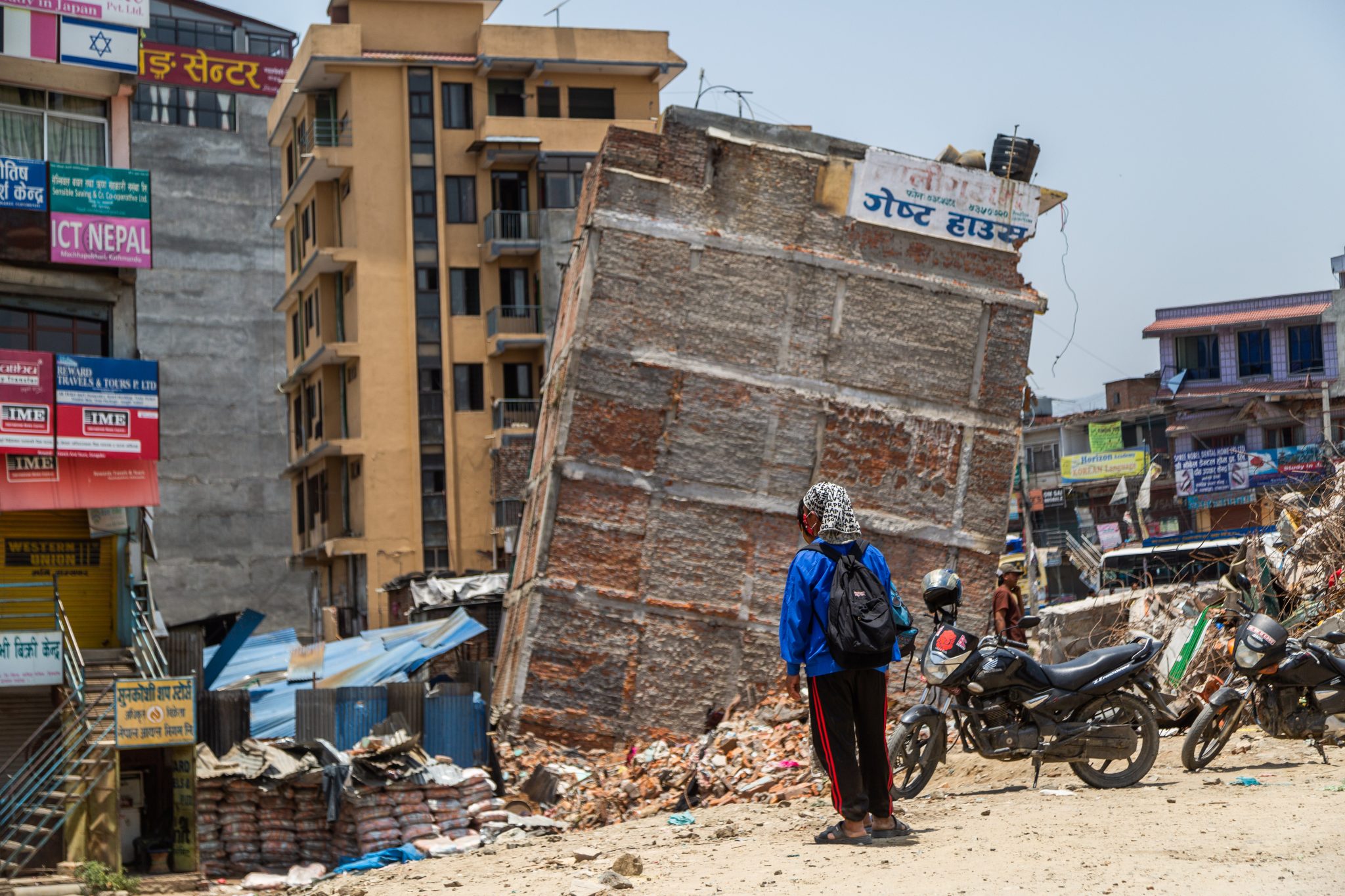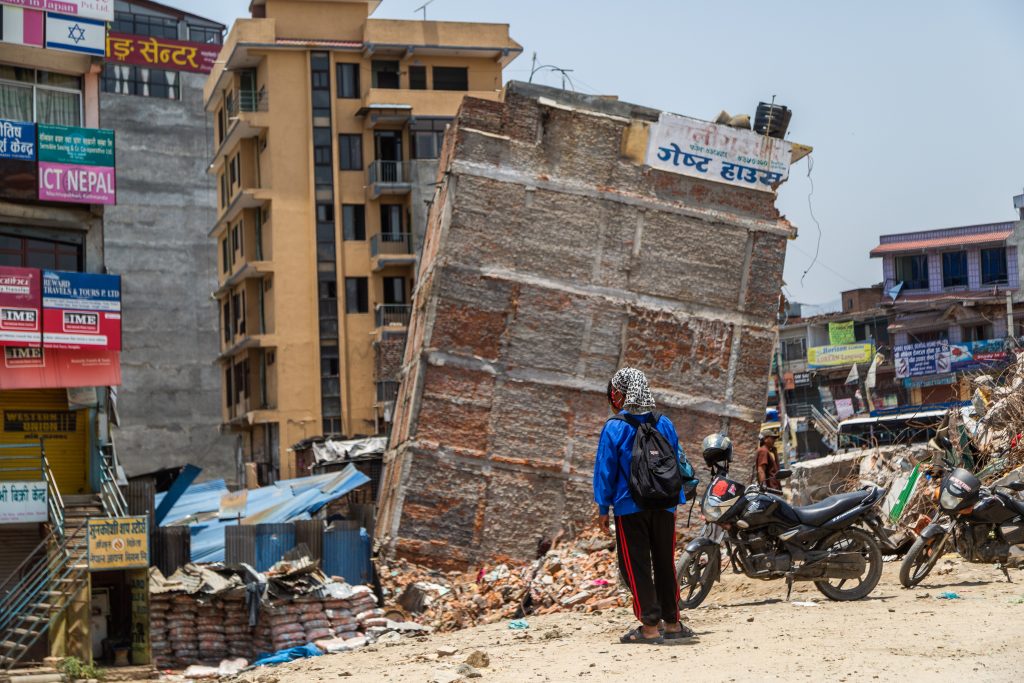 On my first day arriving in Nepal, I felt a 4.6 magnitude aftershock. The entire building felt like it lifted up, shook from side to side, and sat back on the ground. After things settled, I managed to walk around Kathmandu to get familiar with the city and hear the locals talk about how the earthquakes impacted them. Some of the workers and laborers went back home to the countryside to be with their families. This caused many hotels, shops, and restaurants to close completely.
I also learned that the government did very little to help them. The people I met told me their employer provided them with more assistance than the government. I met a local man who said his company gave him 10kgs of rice and 2 liters of cooking oil. That's all of the assistance that he said he had received during the earthquakes. This was common to hear as I toured the area. I also couldn't help but notice that no one was begging or asking for handouts. When I would speak to the people, they just wanted me to get their story out to the rest of the world and let people know they need help, but they never directly asked me for anything. This is a big contrast from other developing countries I've visited where begging is normal.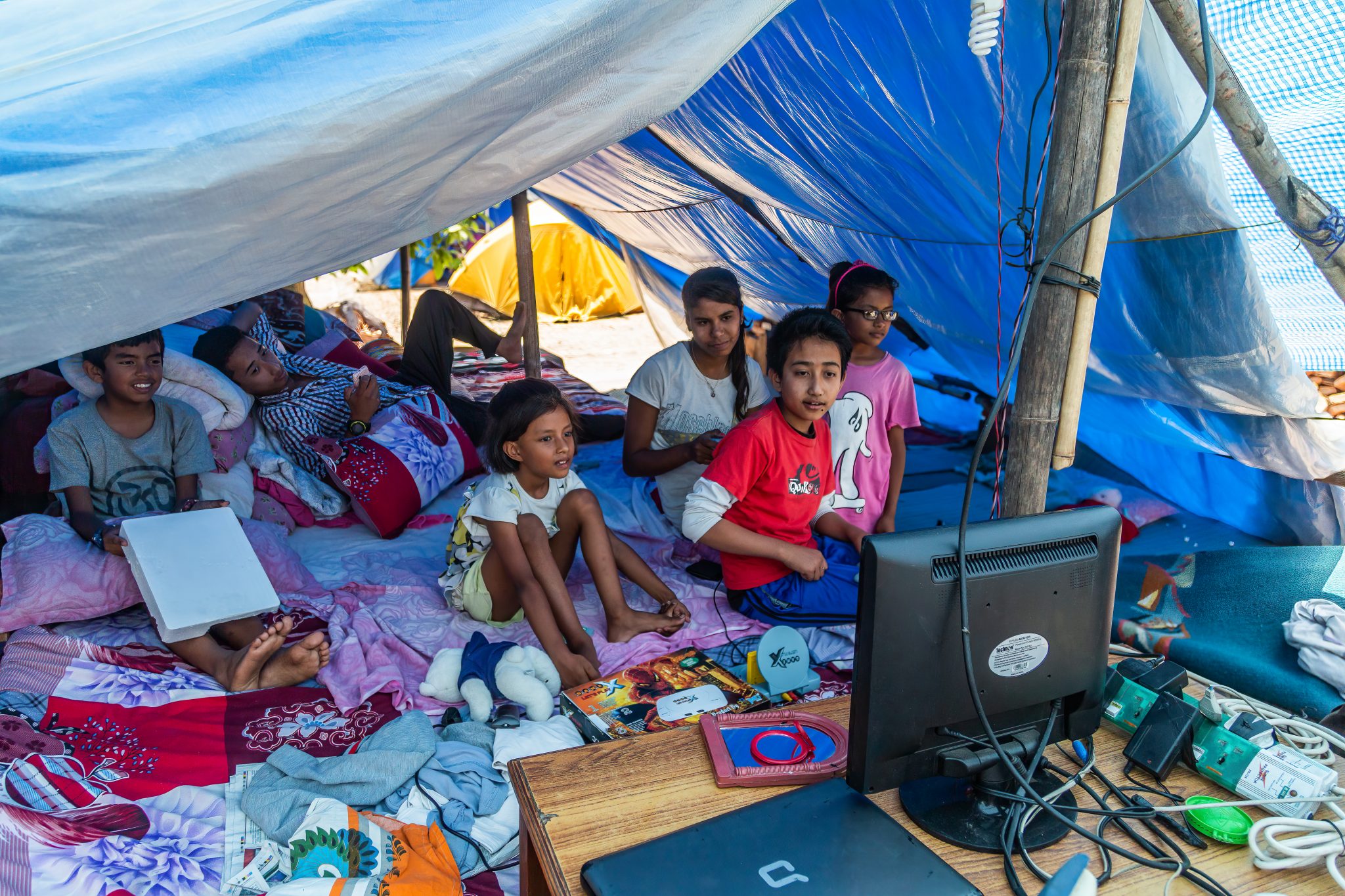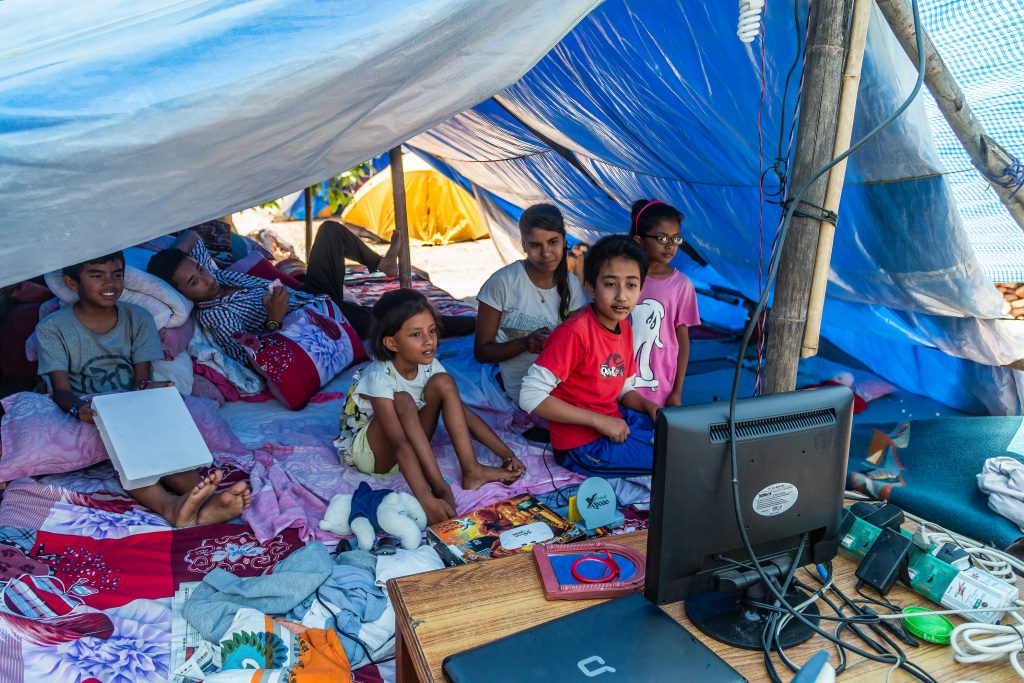 Exploring Thamel
While exploring Thamel, I met Succi. Succi is a woman that operates a girls' orphanage in Kathmandu. They were living outside under a blue tarp because the earthquake had damaged their house so badly. This was a common sight to see because many of the buildings were unstable, so people were just living outside in the open in fear of aftershocks. When I saw them, the girls were playing Super Mario under a tent in the front yard, laughing and having a good time. I gave her some of the supplies I had and she was able to take me deeper into other areas to meet affected families and hear about their experiences. She would stop and talk to all the people, and listen to what needs they had and the best way to help.
Mission Rebuild Nepal
I prefer to work with hyper-local organizations over big names. While researching, I found that Mission Rebuild Nepal was actually being run by the Nepalese, plus they were already in a position to help people. I offered my photography and construction services and they were happy for me to work with them. Mr. Yuvraj Sharma from the Himalayan Climate Initiative was my contact and got me familiar with the organization and up to date as to what was happening on the ground. We were going to be in the village of Sipa Pokhare, in the Sindhupalchowk District of rural Nepal, about 3-4 hours north of Kathmandu. The project was to build core homes using bamboo and other material reclaimed from the old earthquake-damaged houses. My role was to photograph and video the day-to-day activities of rebuilding this remote village.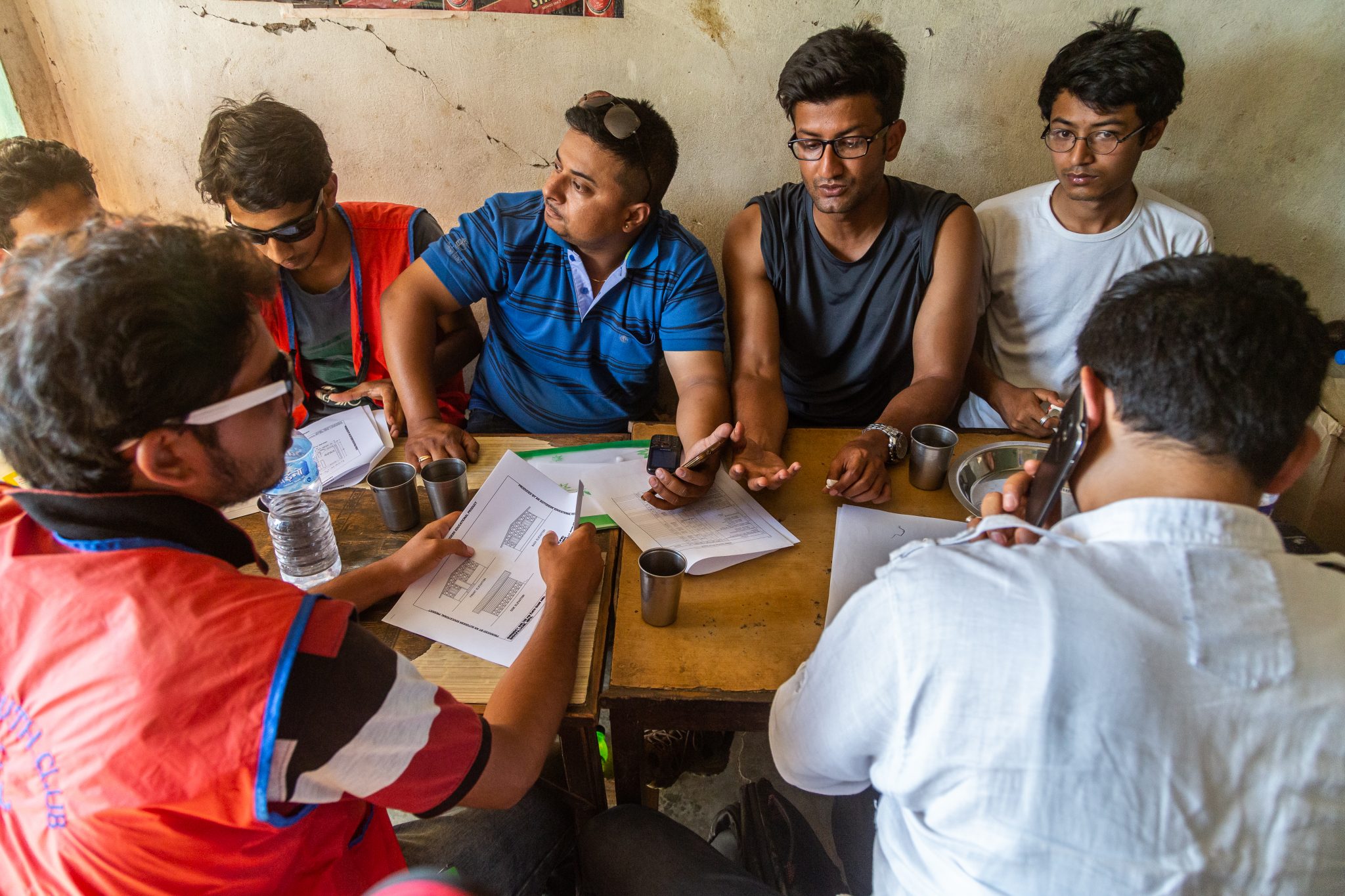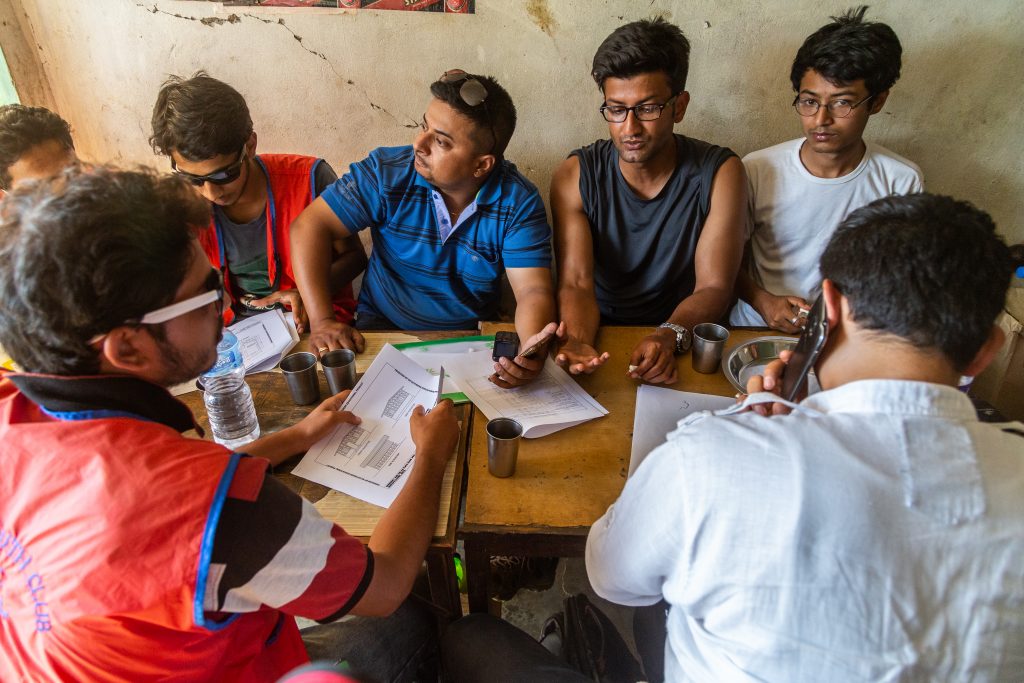 This community's location presented many challenges in trying to rebuild. The first challenge was accessing the village. Landslides from the earthquakes blocked many of the roads leading to the village. This took some time to solve as materials and resources were very scarce at the time. When we were finally able to get to the village, we still had to find water to use. The earthquake drained one of the nearby lakes and rerouted one of the rivers which made it more difficult to find water for mixing concrete and daily use.
Arriving in Sipa Pokhare
The earthquake destruction was very evident when we arrived in Sipa Pokhare. There were almost no school houses, or buildings still standing. I observed many of the villagers picking through the rubble looking for anything that was still salvageable. Over 9,000 people died and 22,000 more were injured during the earthquakes, also known as the Gorkha Earthquakes. Flags were placed where houses once stood. This was to show where they recovered a body. Needless to say, there were many of these flags throughout the villages.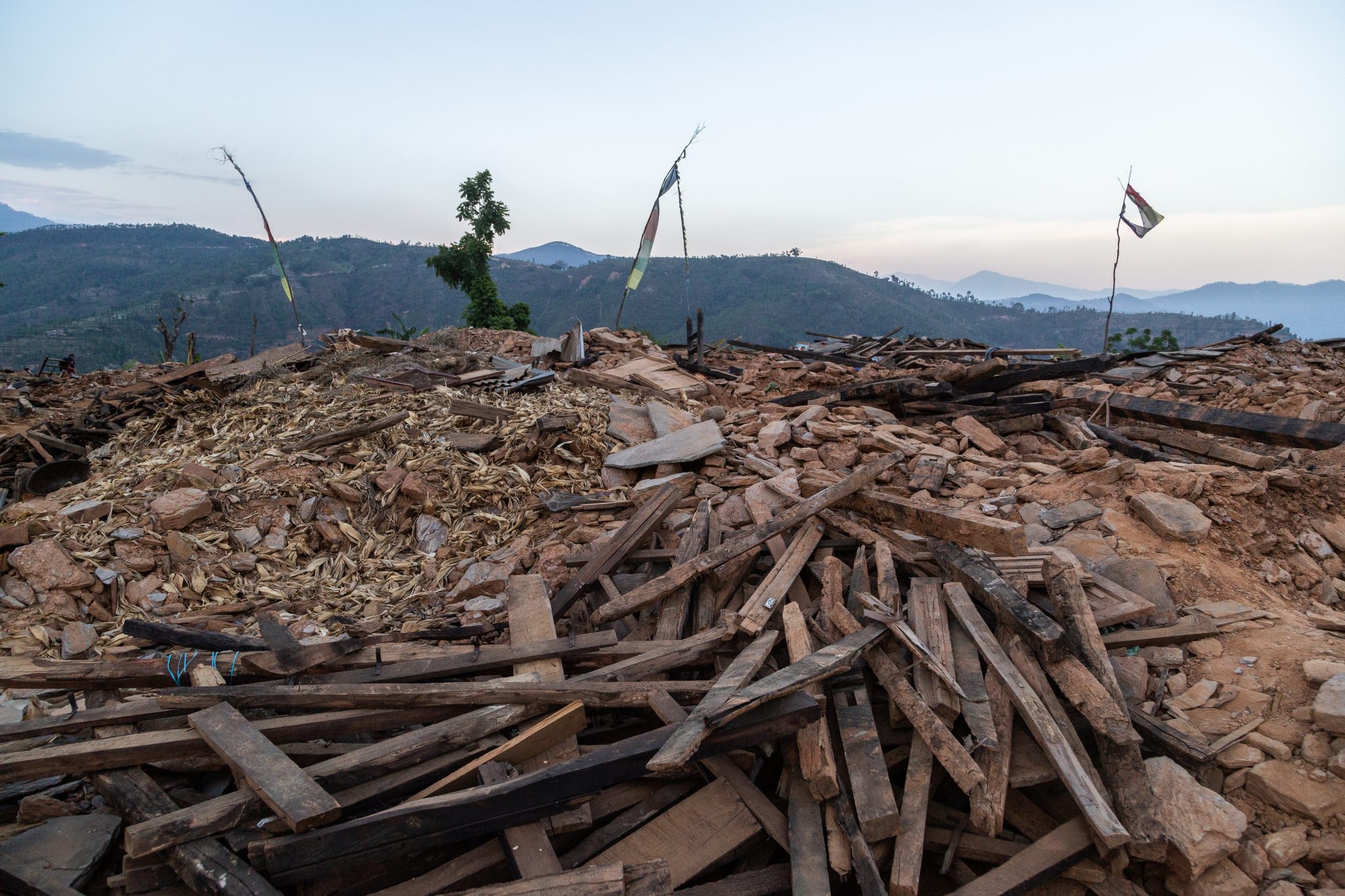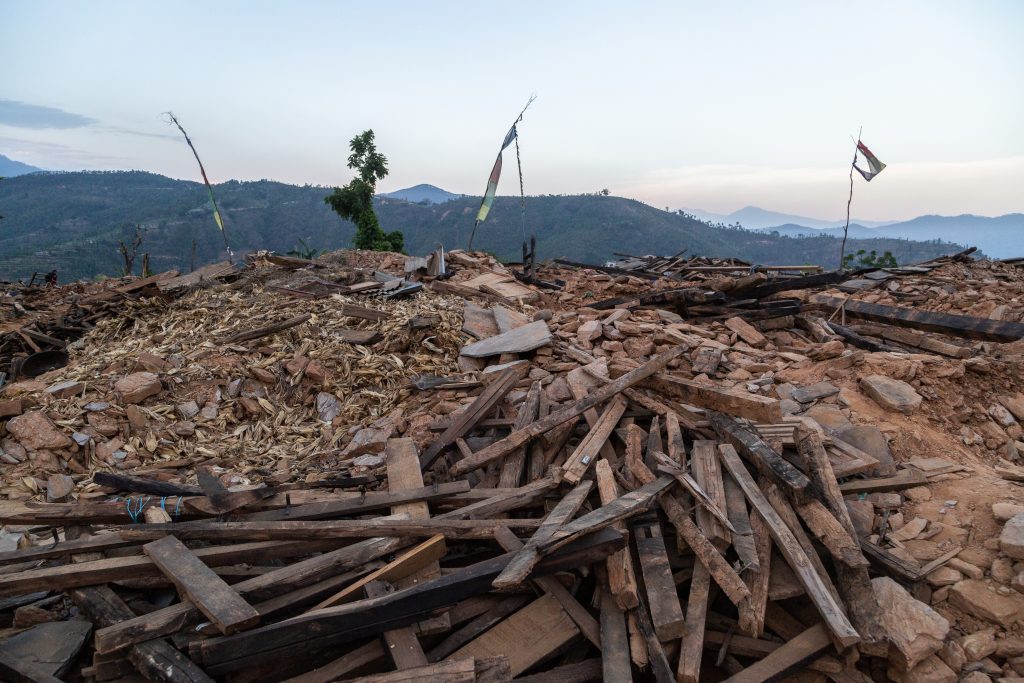 They seemed to be happy and in good spirits when I met the people of Sipa Pokhare. I've never met people that were so happy and warm-hearted. They were very receptive and opened their homes to us which was very welcoming.
Getting To Know the Families
I try not to have my camera in their faces as soon as I arrive. It's good to get to know the families and become familiar with everyone first. This also allows them to become familiar with me and let their guard down after a while, which provides for more candid photographs. I try to put myself in their position and I wouldn't want someone to stick a camera in my face as soon as I saw them. The children were the first to become my friends, as in most cultures. They aren't shy and run up and shake my hand and follow me around the village like my personal escorts. Day after day when we would come to work, the families would open up more and more. After a couple of days, they were completely open to me and would allow me to photograph them anywhere doing anything.
Food and Lodging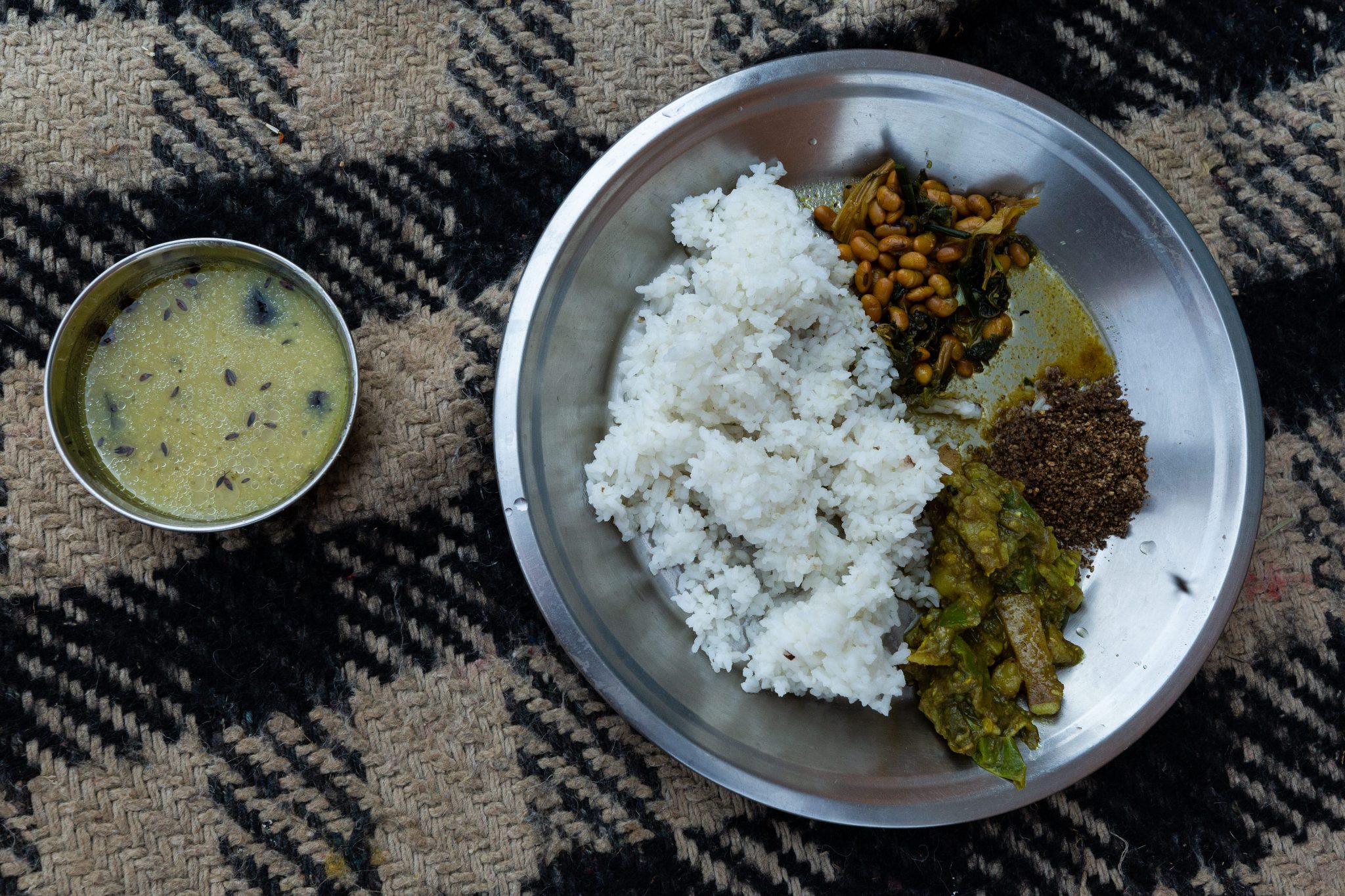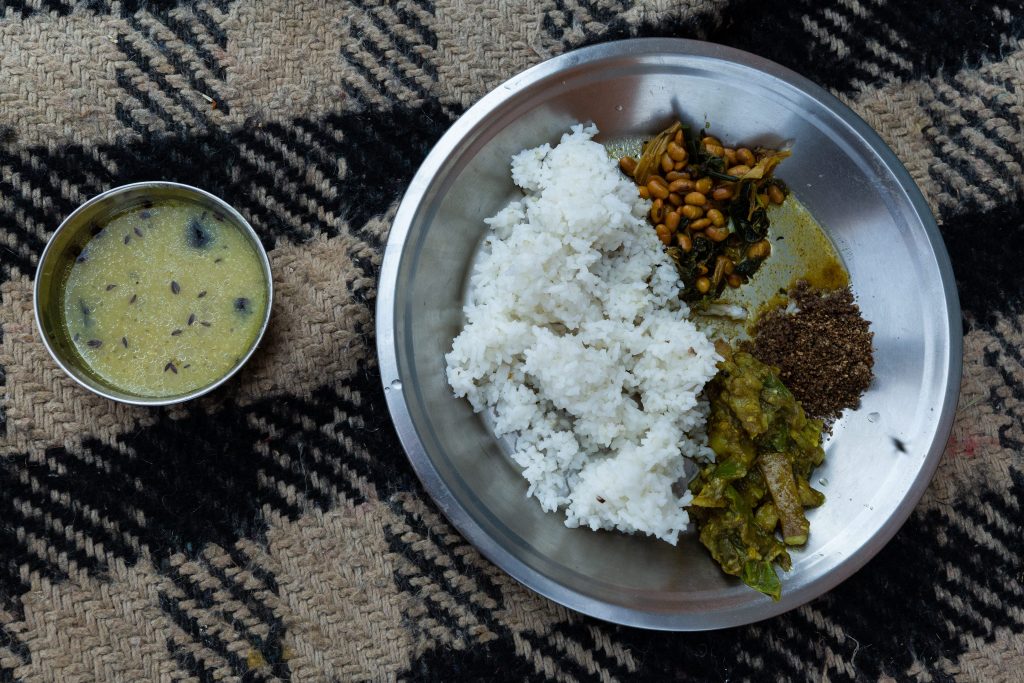 The base for myself and the other volunteers doing earthquake relief volunteering was about a 2km hike from the worksite. I slept in a tent outside of the house while others slept inside. Water and electricity were very unpredictable. It may come on for one hour, two days, five hours, twenty-four hours, or ten minutes and there was no way of knowing when it did come on or how long it would be on. Our diet for breakfast, lunch, and dinner consisted mostly of dahl baht, jackfruit, rice, and lentils. I brought some snacks from Kathmandu and we would have the occasional bowl of ramen for lunch.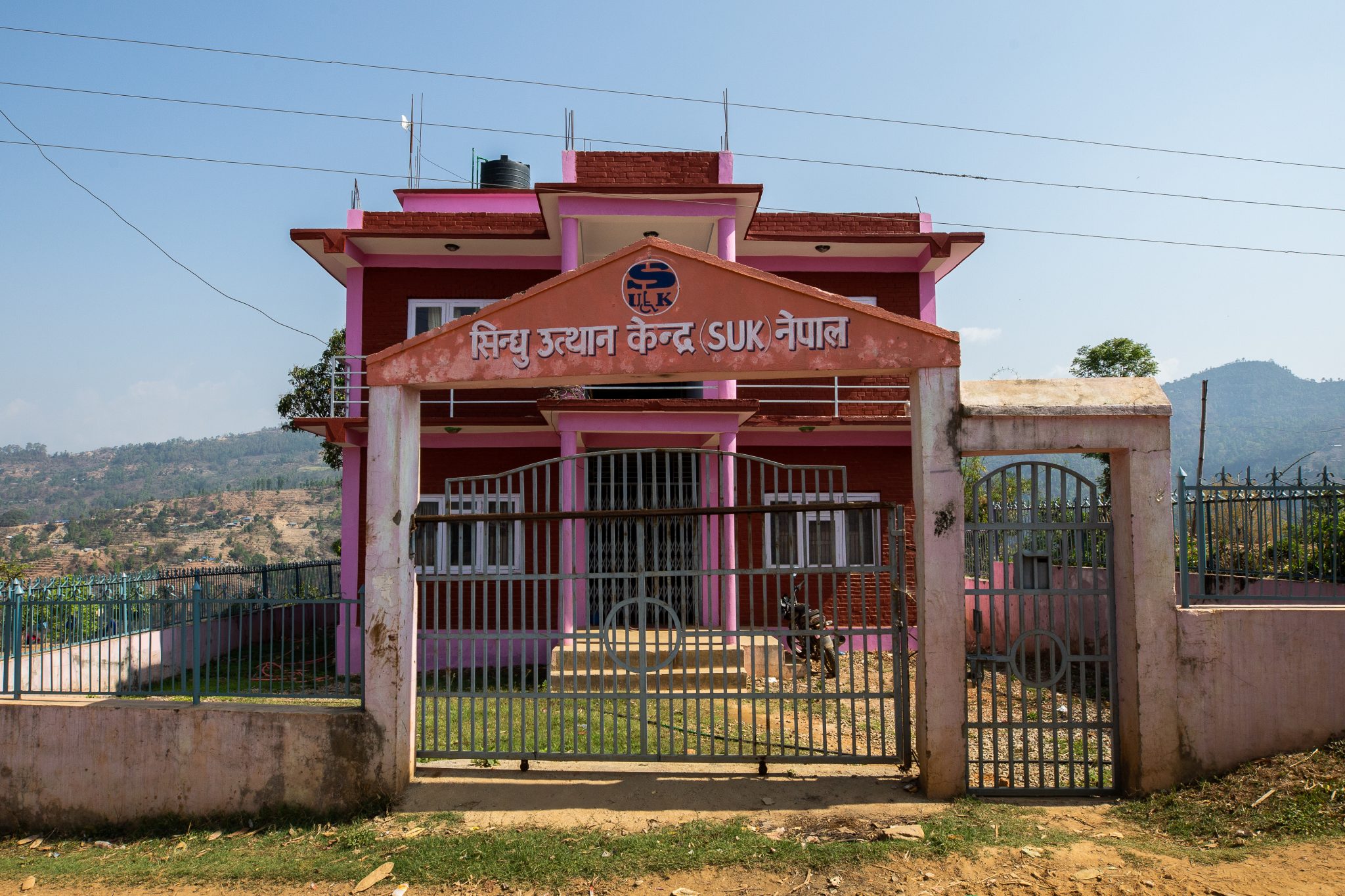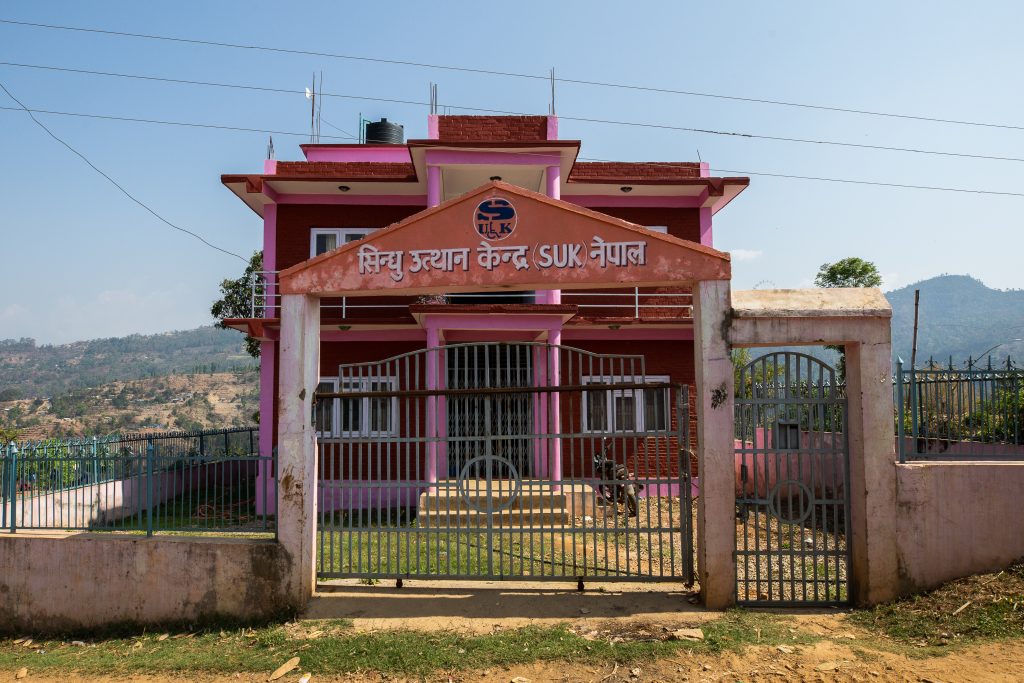 We would hike to and from the site every day which took maybe an hour. After arriving back on base in the evening, we could shower if we had running water. If not, we could go down and bathe in the river not far from the base. The evening included a vegetarian dinner and sitting around talking with the locals and other volunteers. I was the only photographer but there were other volunteer engineers that were helping with the design plans for the houses.
Each house costs about $450 and lasts at least five years. Organizations and Individual donations from all over the world paid for the houses through the Mission Rebuild Nepal headquarters based in Herndon, Virginia. They rebuilt over one thousand houses in an area where almost 100% of the houses were destroyed.
Entertainment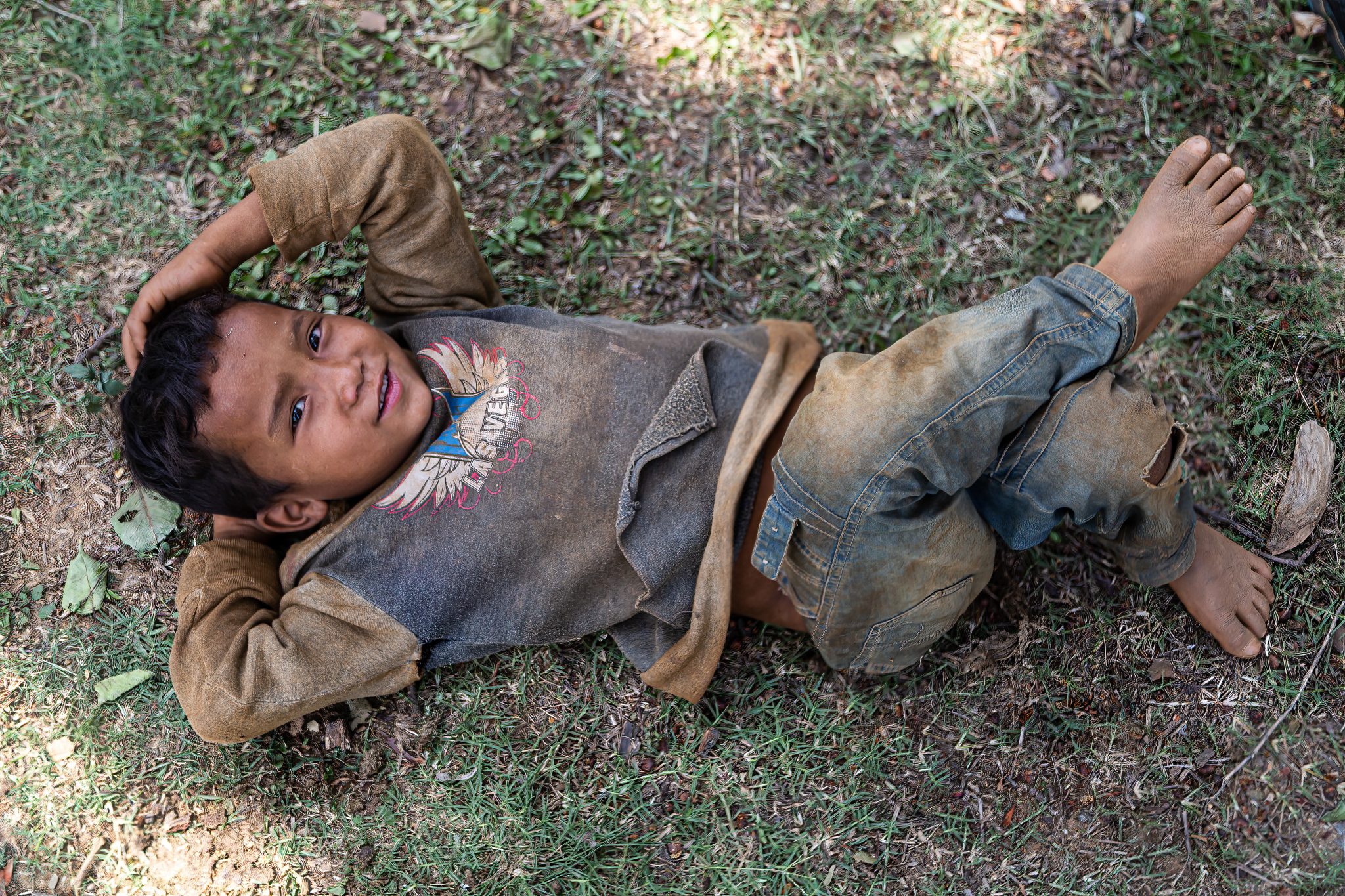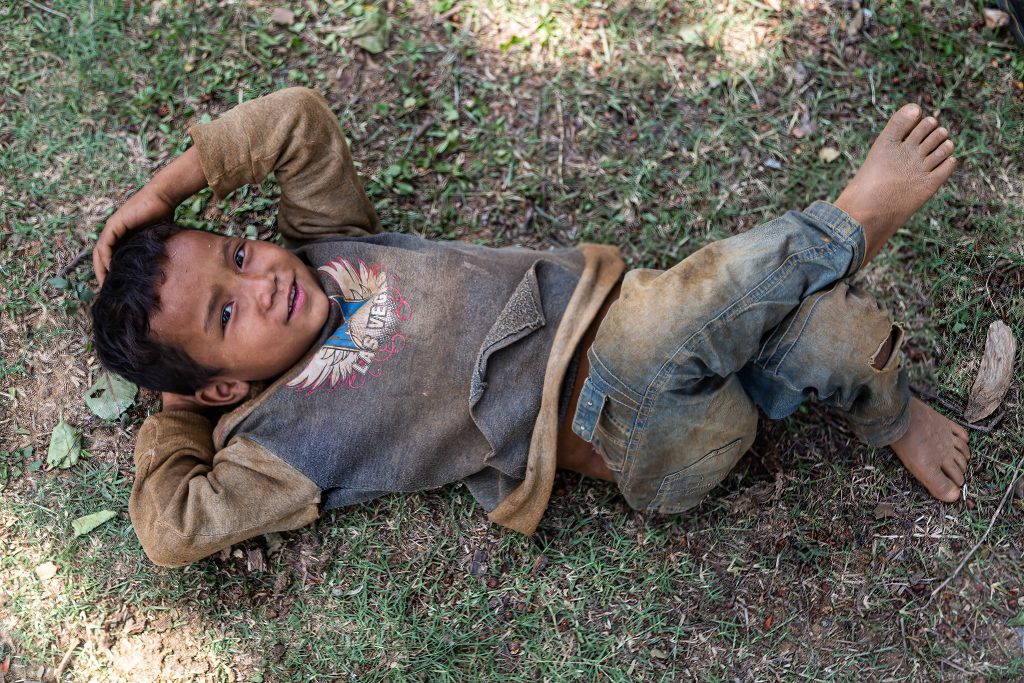 The boys would do goofy tricks to get us to laugh and the girls would sing songs for us. I seemed to get along really well with a certain couple of boys. I called them Tappy and Chappy because one boy wore the same Tapout sweater the entire time I was there. His friend had pants with the butt area worn away, leaving his bare cheeks exposed, like a pair of chaps. The two boys would provide me with countless laughs and entertainment.
I photographed with Mission Rebuild Nepal for about a week before I had to come back to Kathmandu. The water should have been purified with iodine drops for 20 minutes before I could drink it. I guess I didn't wait long enough and I had some unpurified water that made me very sick. There wasn't a way back to Kathmandu so I had to wait about a day before I could get a ride. The keeper of the house where we were based nursed me back to health until a ride was available. It was over a three-hour drive in a dump truck back to the city of Kathmandu.
Support
I still reminisce about my time doing earthquake relief volunteering in Nepal. Years later, they are still rebuilding schools and community centers in the affected areas. I've illustrated some of my photographs on t-shirts to help raise money for the people of Nepal. You can help by purchasing them on my shop page. If you want to volunteer while traveling in Nepal or donate to Mission Rebuild Nepal directly by clicking here. Thanks for your support.
Below are photos and a video from the village where I was volunteering while traveling in Nepal.
Click here to see my favorite photographs from Nepal.
Nepal Portfolio