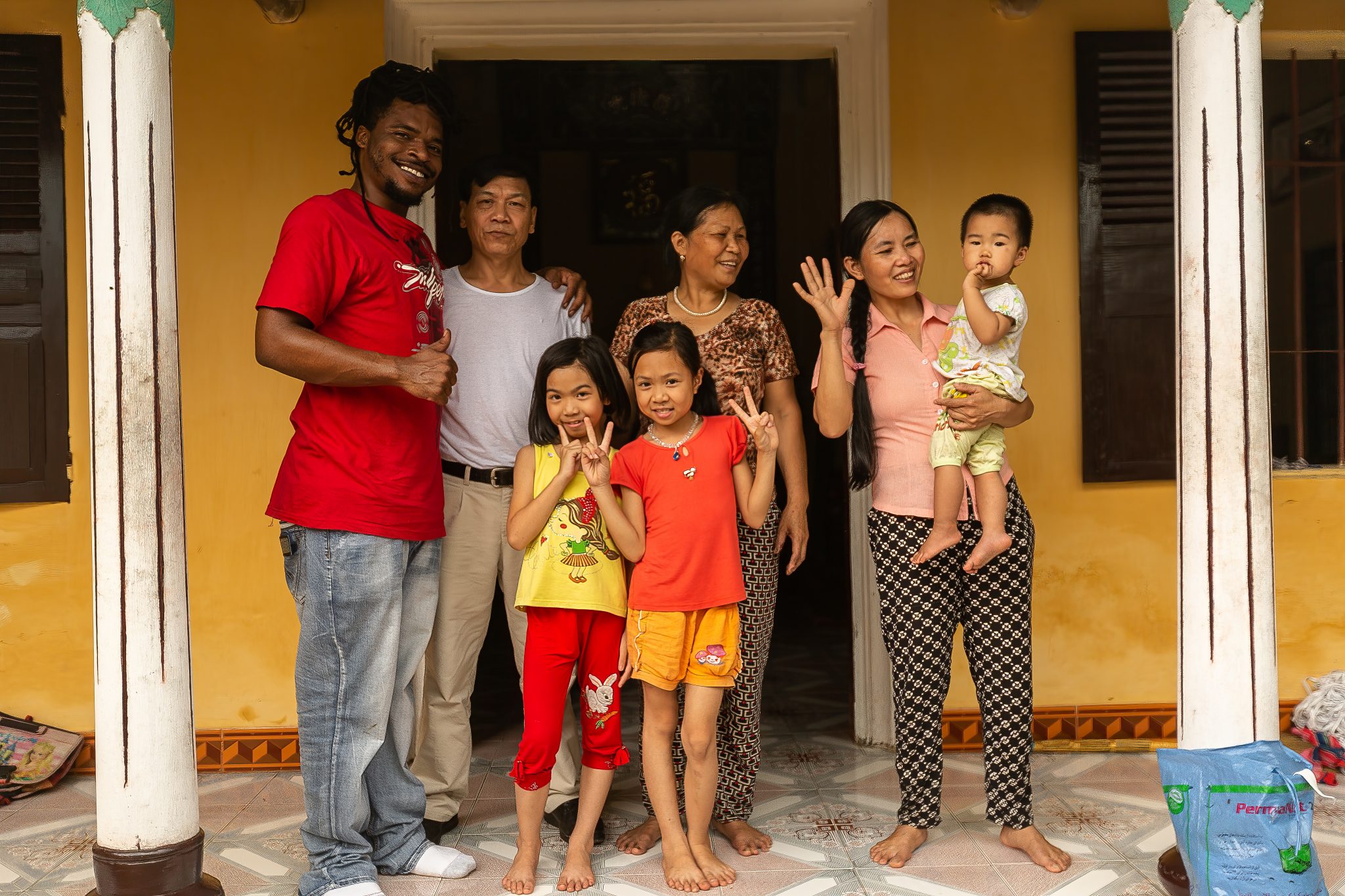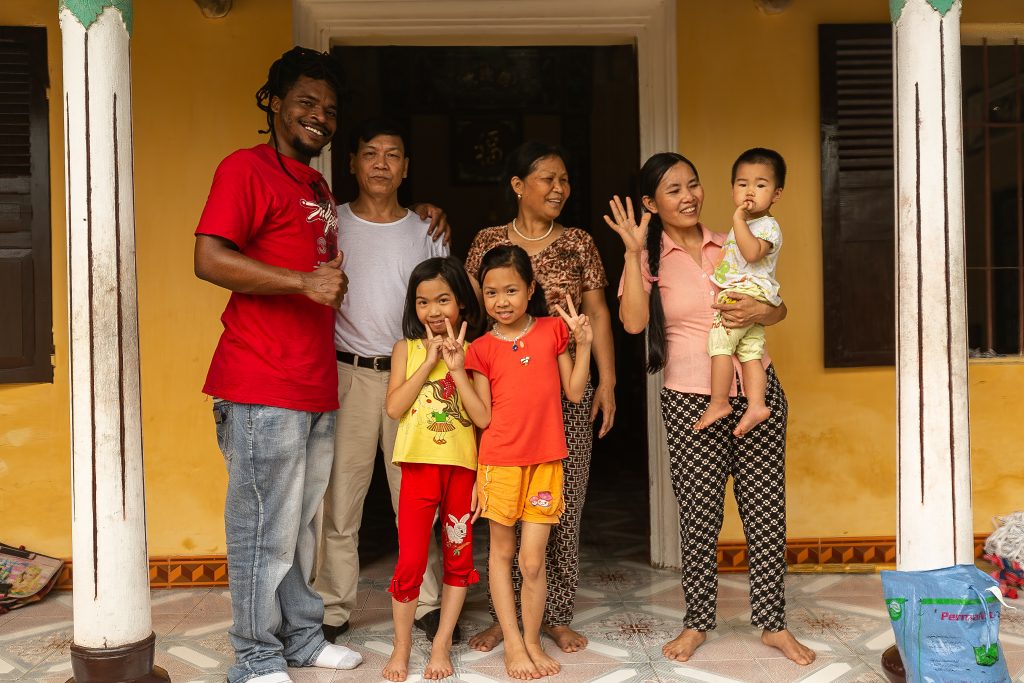 I was lucky enough to explore many places in Asia when I lived in Thailand. Bangkok is a major hub in Southeast Asia with many discount airlines. On one of the many national holiday weekends in Thailand, I visited Hanoi, in northern Vietnam. It was my first time in Vietnam and I was really excited. I planned to do some photography and just wander around for a few days. It into a memorable adventure where spent the day in a small village. I thought it would be interesting to share how I photographed this Vietnamese family portrait.
Arriving in Vietnam
E-Visas are available online before arriving in Vietnam and Visa On Arrival services are available at Noi Bai International Airport in Hanoi for $45. My hotel was about a 30 minutes drive from the airport, not far from the city square near the park and lake. I told the front desk lady I would like to see some of the areas outside of Hanoi because I was a photographer. She made some calls and arranged for a guide to take me to one of the local villages. We drove about twenty or thirty minutes outside of Hanoi until we hit the outskirts of the city. After cruising through one area, I saw a good area to start photographing. I told my driver I'd meet him back in about 30 minutes and started walking around the neighborhood. Some of the people looked to be farmers harvesting sugar cane or other crops. Some people were smiling at me, some gave me the stink face, and others just had no reaction.
Meeting Random Children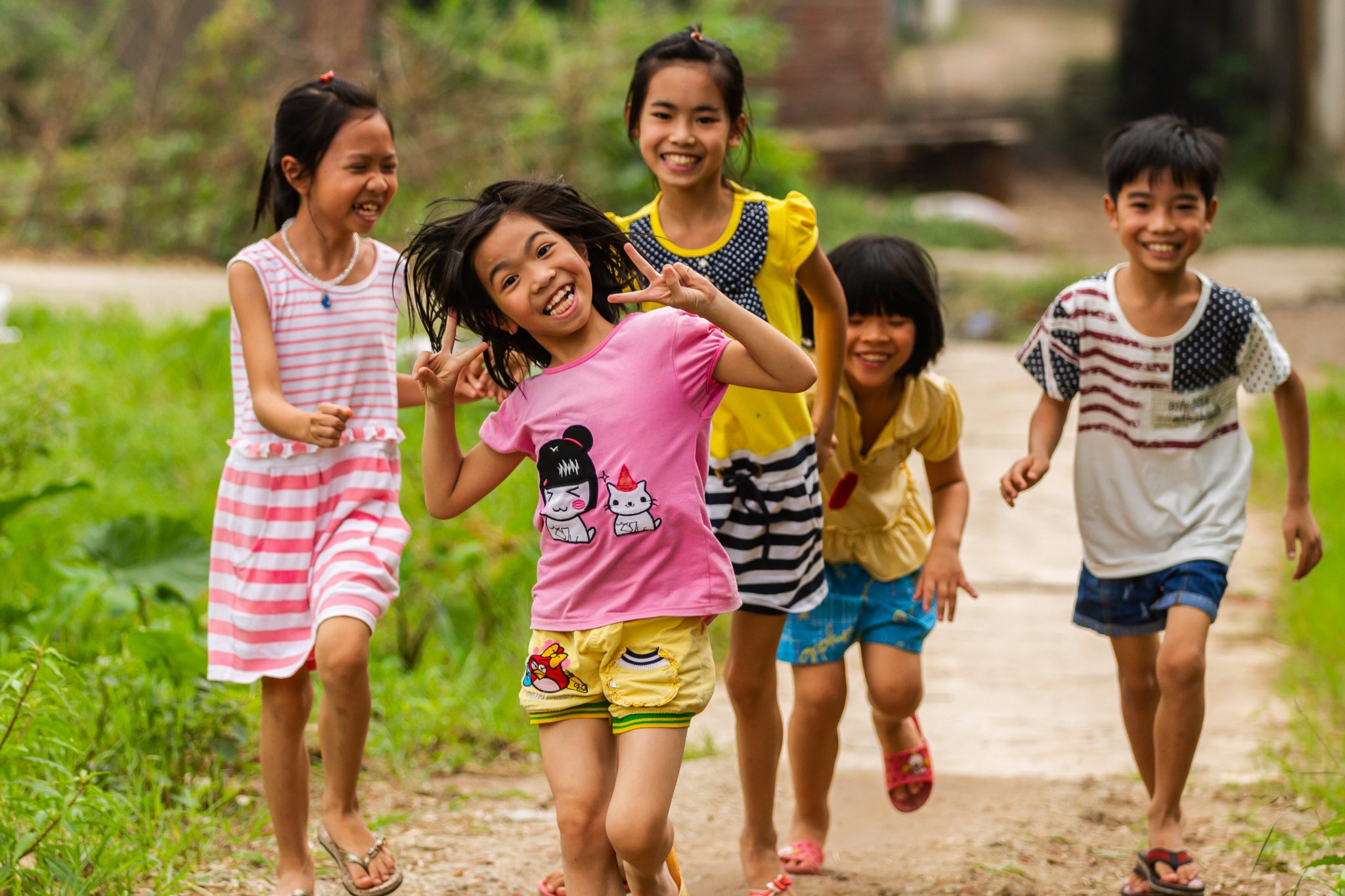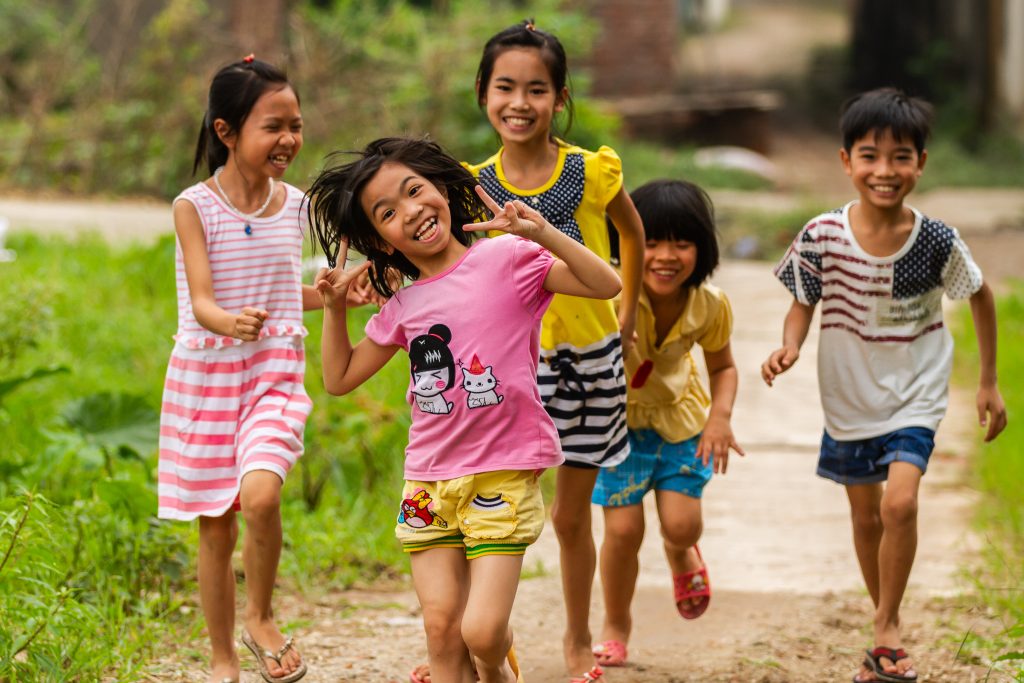 While walking down an alley, I heard children laughing and when I turned around they were running full speed towards me. I quickly started shooting them as they ran to me and we had an impromptu photo shoot. They seemed to be all related, siblings or cousins I assume. They were doing silly poses and playing with each other like I used to do with my cousins.
Meeting the Family
After a while, they grabbed my hand and led me back to their house where I met their family. There was a friendly vibe at the house as soon as I stepped into the yard. I assume those were the uncles working on motorbikes in the yard and the grandmother calling the children to come in. Understandably, there were shocked faces when the children brought me home. The other family members were all talking frantically and laughing and smiling with each other. I could only imagine what they were saying because they didn't speak English and I didn't speak Vietnamese.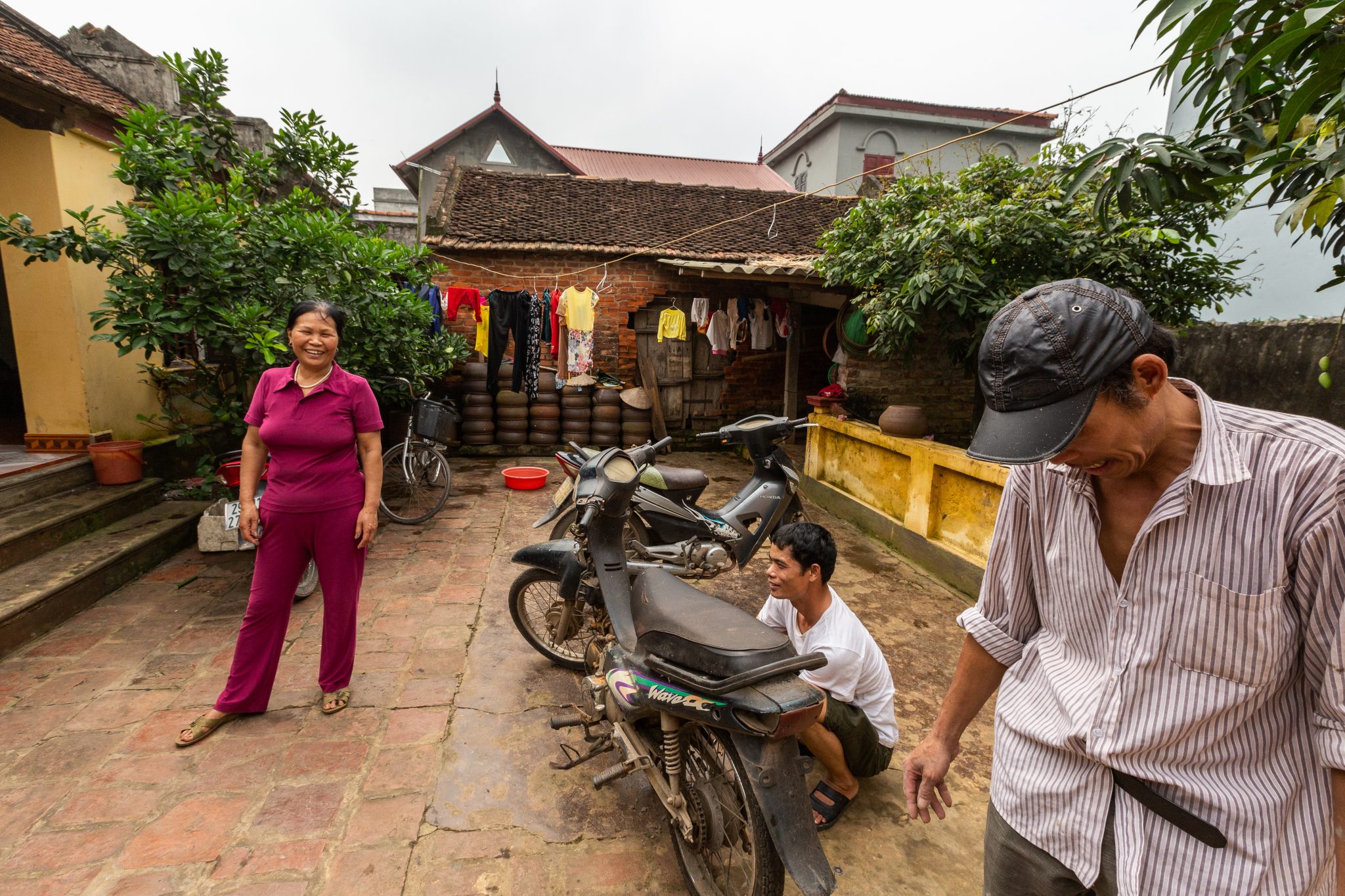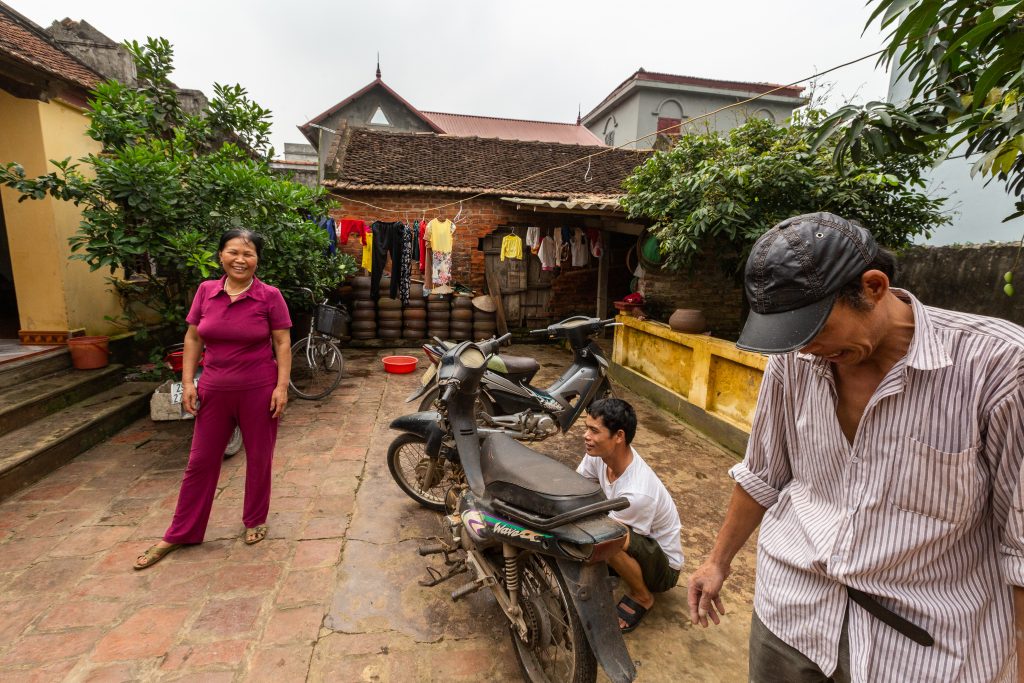 They invited me inside the house where the children showed me around. I believe they were trying to explain the pictures on the wall and who everyone was. The mothers and aunts were sewing dresses and skirts in the sewing area next to the house. They led me back outside and one of the men stopped working on the motorbike and pulled out a long pipe and bucket. He put something into one end of the pipe and smoked from the other end. It didn't look or smell like marijuana or tobacco but he was the only one smoking it as if he did it just because I was there.
Vietnamese Family Portrait
Something told me to take a picture of this family so I motioned for them to gather on the porch so I could photograph them. They understood what I was trying to do and quickly got in place for the shot. Of course, the children were the most excited and jumped at the opportunity for more pictures.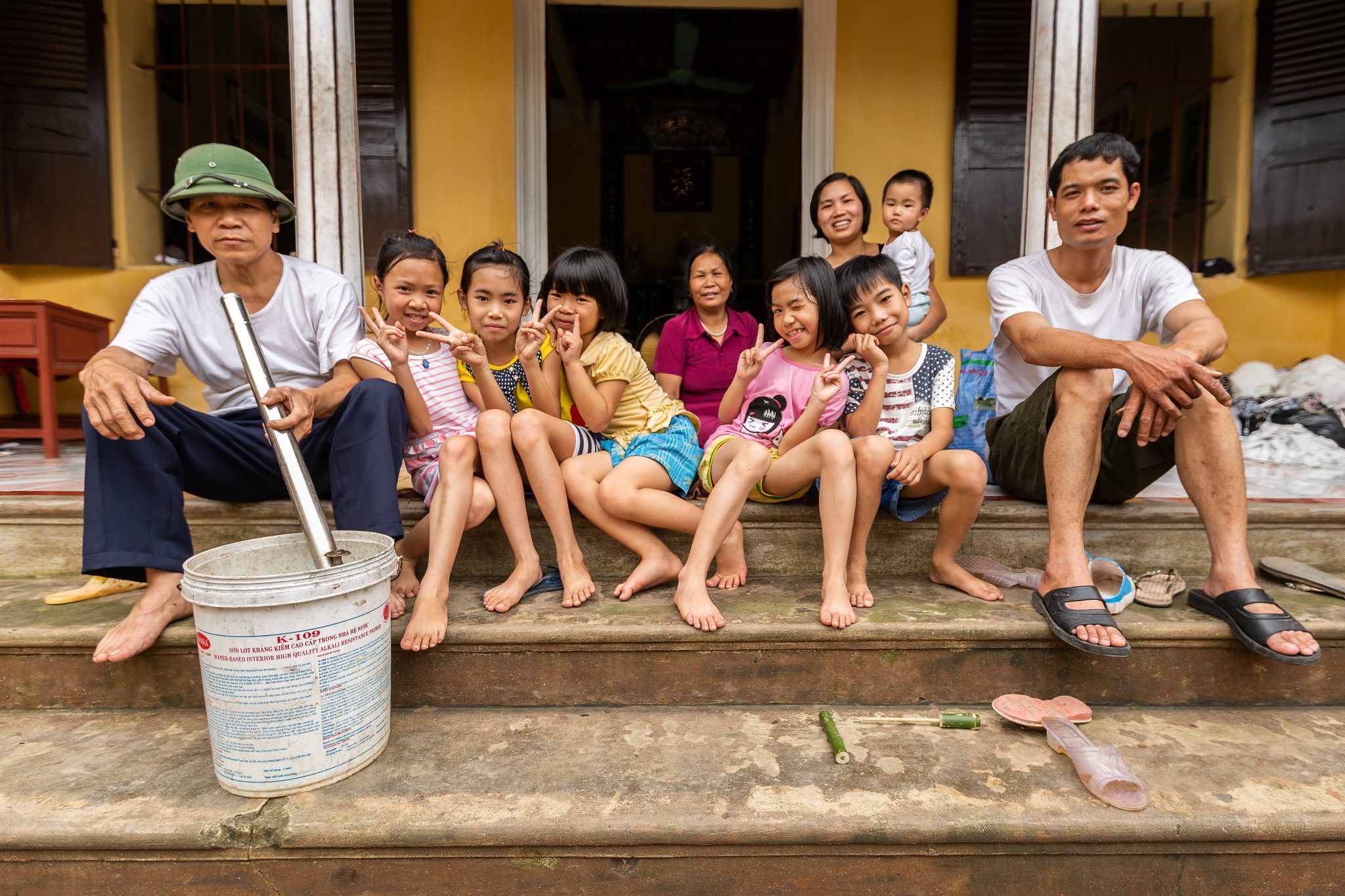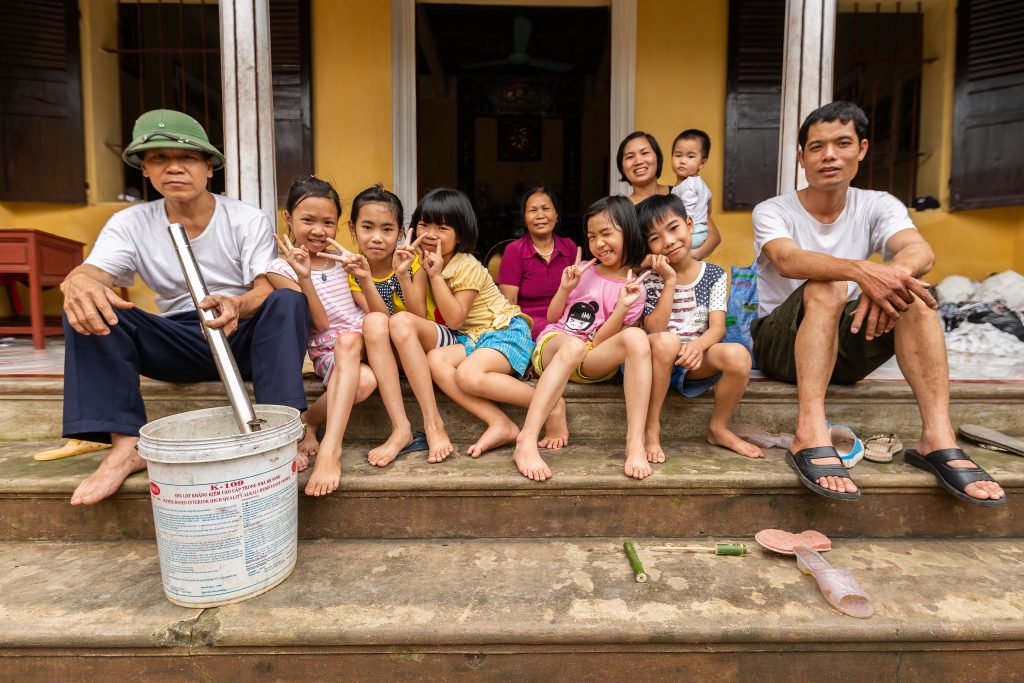 After I captured this Vietnamese family portrait, we said goodbye and the children escorted me back to the driver, who looked semi-annoyed because it had been longer than thirty minutes. We drove back to my hotel in Hanoi where I looked over the photographs and relaxed for the evening.
A Fellow Traveler Gave Me the Idea
The next day at a cafe I met Charlotte, a lady from Amsterdam who was also spending time in Hanoi. We started talking after she saw the photos I was working on. She was really impressed with my story of what happened with the family and suggested I get the family photo framed and take it back to them. This was a wonderful idea and I immediately got excited just thinking about it.
We ate and then went to the Fujifilm photo lab across the street. We dropped off the files to be printed and chose the largest frame they had in the store. I also got a book of smaller 5in. x 7in. photographs of the children playing and running around. The photos wouldn't be ready until the next day. She wanted to go back to the village with me so we made plans to meet up the next morning.
Back to the Village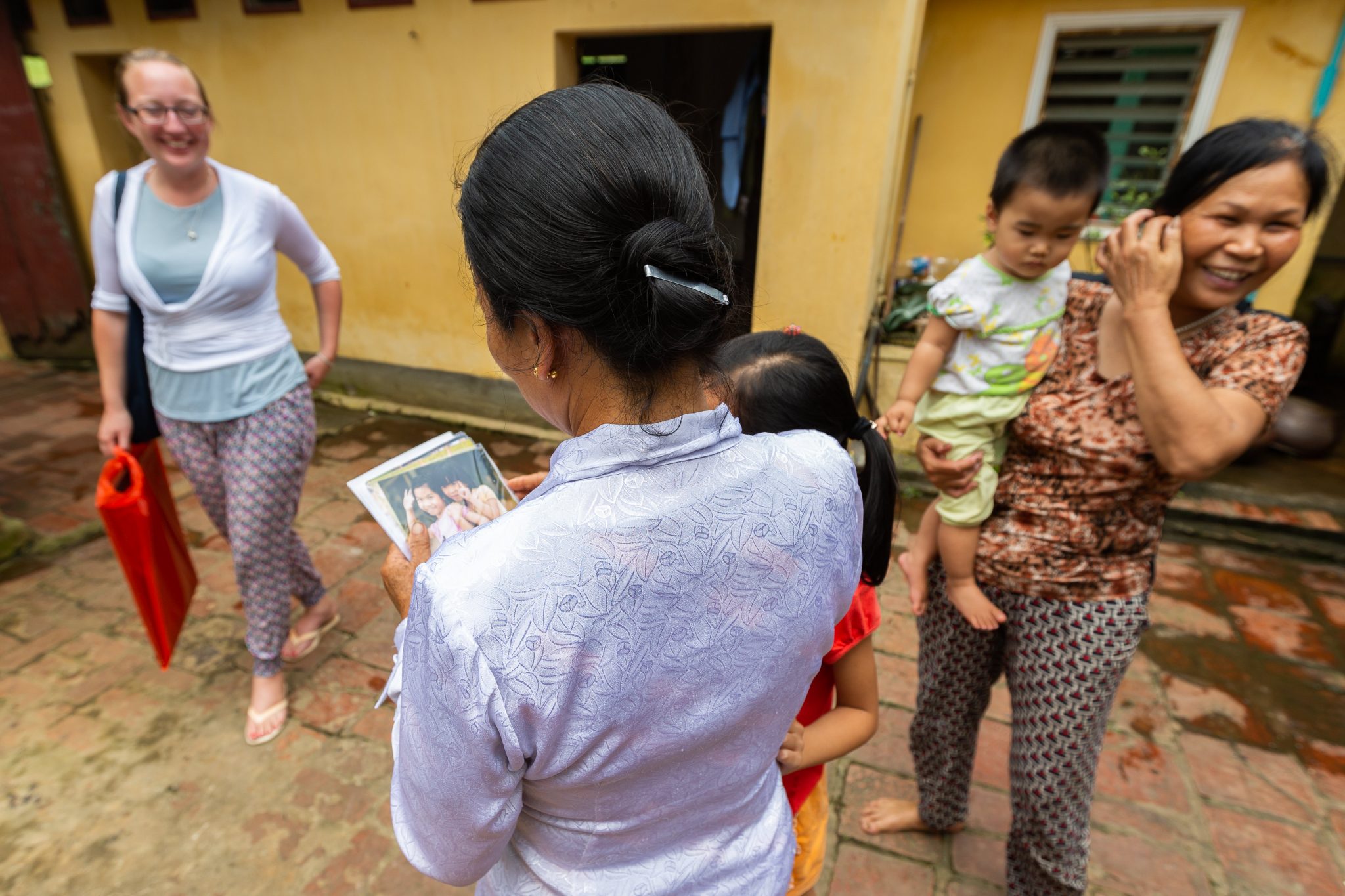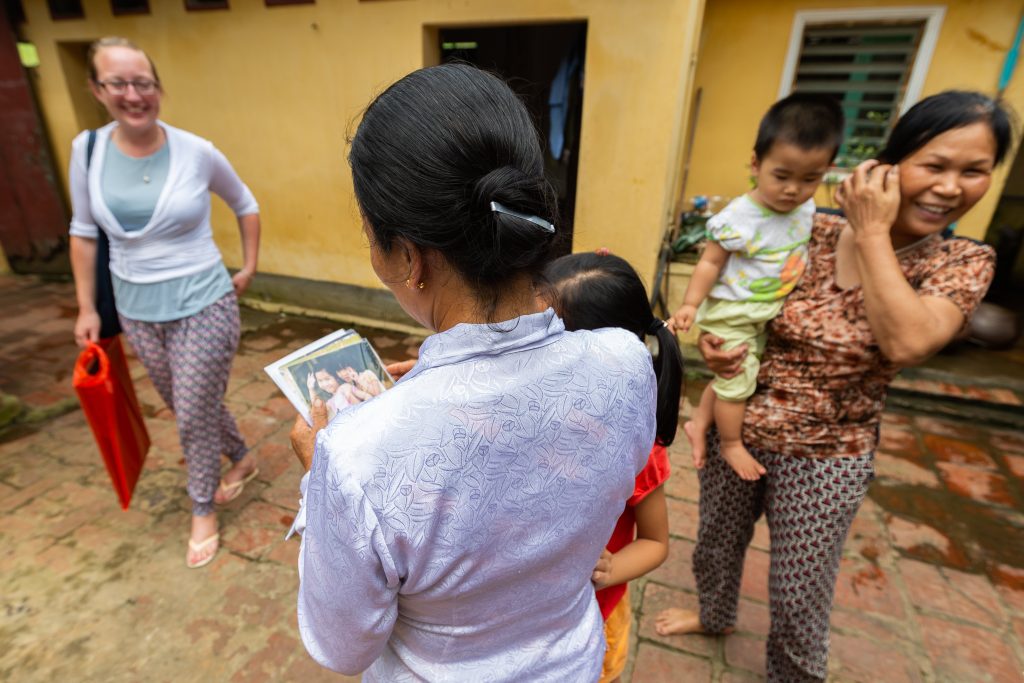 After we got the Vietnamese family portrait from the lab, we went back to the village to deliver the photos to the family. I was really excited to see them and their reactions. They were outside in the yard when I walked up and were very happy and surprised to see me again, especially having brought someone with me.
First I gave them the smaller book of the children playing and they were so happy. They were laughing and pointing at the pictures and passing the book around to each other. I think if that was all I gave them, it would have made them super happy. When I pulled out the bigger framed family portrait, they completely lost it. I don't think I've ever seen someone so happy to receive something in my life. I had no idea what they were saying but I could tell the gratitude was there. They just held it and stared at it pointing and smiling. One lady took down the only picture in the house and put the new family portrait up in its place. Then they took it back down and kept looking at it.
By this time they've invited us in and given us water to drink and turned the fan on for us. Charlotte and I were talking to each other making up our own translations about what they probably were saying. Then they brought out the keyboard and microphone and played around with some songs. I played around on the keyboard some but the one young girl put her hands in her ears as if she didn't like it.
Here Come the Neighbors
I suppose the neighbors heard all the commotion by this time and came over to see what was going on. After the expected jaw drops, they took us over to the next house to meet some more people. It was an elderly man and I assume his daughter in a room in a small house watching tv. When we came in, they gave us water and the bananas from the Buddhist altar shrine on the wall, along with some water. Again, no one could understand anyone else because we didn't speak the same language so it was mostly smiles, stares, and hand gestures.
After being bounced around to different neighbors' houses, it was time to track down our driver and head back to Hanoi. Before leaving, the family I made the photo for gave us a giant bag full of bean sprouts which we took with us. The kids followed us back to the car and waved at us until we drove away and couldn't see them anymore.
Moral of the Story
I wanted to share this experience with people who feel like they can't have meaningful experiences because they don't know the language or don't want to travel or venture out alone. Besides the last day when I went back to the village with Charlotte, I was by myself the whole time. We all understood each other's vibe and energies which led to an extremely meaningful experience, really without any words being spoken. When I left my hotel that morning, I had no idea that I would capture a Vietnamese family portrait. Even with carrying my camera gear and all the crazy stares, I never felt fearful or in any danger at all. I hope this helps other people to feel comfortable being uncomfortable.
Below are other photographs from my brief time with this family.
Click the link to see my favorite photographs from Vietnam.
Vietnam Portfolio